Gas Man® is a unique computer tool for teaching, simulating and experimenting with anesthesia uptake and distribution. It combines an award-winning tutorial book with powerful, easy-to-use software.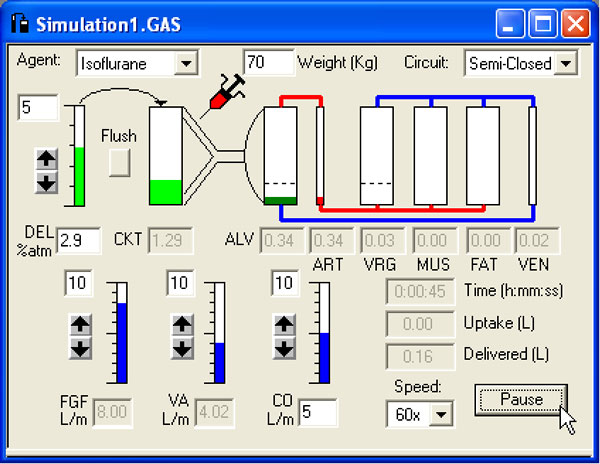 Each concept taught by Gas Man® is fully documented and further explained in the tutorial. The Gas Man® computer model graphically simulates the pharmacokinetics of anesthesia administration.
It shows the time course of anesthesia uptake in each compartment of the body – lungs, heart, brain – as well as the breathing circuit and vaporizer.
Anesthesia uptake and distribution is one of the most challenging subjects in anesthesiology to learn and to teach. This is particularly true now that new agents are available for use in the operating room. And for clinical and economic reasons, it is increasingly important for anesthesia professionals to seek the most effective and least costly combination of agents and administration techniques.
Gas Man® is the answer for teaching, experimenting and planning anesthesia administration on the computer before trying it in the operating room. Gas Man® is used by hundreds of practicing anesthesiologists and dozens of medical and veterinary teaching programs around the world.
Medical schools…
Teaching hospitals and medical schools around the world have found it to be the most useful way to teach inhalation anesthetic pharmacokinetics, and have found the ability to simulate administration techniques and new agents an invaluable aid to learning.
Because of Gas Man's full cut-and-paste compatibility with other Windows or Macintosh programs, instructors can easily use Gas Man® output in spreadsheets or computer slide presentations for teaching, grand rounds, and research.
Anesthesia Residency Programs…
Residency Programs can more effectively teach core competency of inhalation anesthesia. Gas Man® teaches basic theory, clinical choice and use of inhalation anesthetics to speed induction, speed emergence, and reduce drug cost. Through the use of simple homework assignments reviewed by an instructor, trainees can have their competency tested and those requiring it can be easily remediated. The Gas Man® Workbook contains a series of computer explorations that teach this subject matter.
Veterinary schools…
Gas Man® is now used by nearly all U.S. veterinary schools and several in other countries as well. Release 4.1 for the Macintosh and Windows features the ability to scale the patient weight from 0.1 to 500 kg. This feature makes Gas Man® directly applicable to veterinary practice.
Manufacturers…
Gas Man® has been used as a powerful tool by manufacturers of anesthesia and surgery related equipment and products. Manufacturers have used it to: train their staff, help educate their customers, analyze the performance of their products, and design new products. (Bulk licensing discounts available)
---
Gas Man® is used by over a hundred institutions like the ones below, and by hundreds of individuals.
Abbott Laboratories
Albert Einstein Medical Center
Baxter Pharmaceuticals
GE Healthcare
Datascope
Emory University
Hamamatsu University
Harvard Medical School
Iowa State Veterinary Sciences
John Hopkins School of Medicine
Loma Linda University
LSU College of Veterinary Medicine
Northwestern University
Phamacia & Upjohn
Raleigh School of Nurse Anesthesia
Summa Health Systems
Tripler Army Medical Center
University of Bern
University of Pennsylvania
University of Toronto
University of Texas
Yale New Haven Hospital
… and many more.